How time flies, time flies, suddenly busy in 2014 has been in the past, full of expectation in 2015 has been coming to us. The New Year, xing fu auspicious technology group gave birth to new goals and hopes.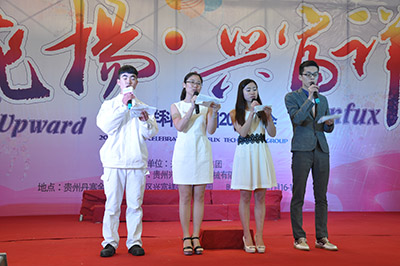 Xing fu auspicious technology group in January 17, 2015 in guizhou xing fu auspicious equipment science and technology park. From shenzhen xing fu xing rich auspicious auspicious, ningbo, guizhou xing fu auspicious, DouYun tongli, guizhou guizhou ou tai shan qiao, wuxi ou tai, Taiwan set up health and other companies, 538 people gathered from all directions to Dan village in guizhou. The annual meeting of the group companies, partners, colleagues and leaders at all levels gathered, the annual meeting of the scene is full of passion, warm and lively atmosphere. Annual meeting, first by the group chairman Peng Hongfu toast, guizhou xing, general manager of rich auspicious Fan Hong welcome visitors as a host and placed on the development of group with all staff deeply hopes and wishes.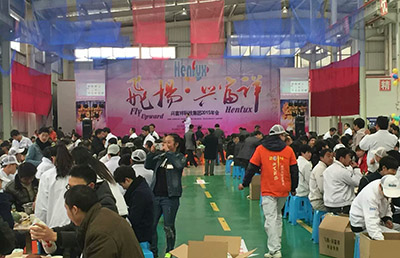 Hope group staff out of passion and drive for 2015 hing cheung rich technology group in the struggle for obtain a bigger development. In the past year, the group members are on the increase, the group's sales are increasing, the cultivation of the staffs and pay cannot leave the group. Set the annual meeting of the group also provides employees with a stage to show themselves and team in the morning, in guizhou with rich auspicious equipment science and technology park organized dial river, pitch circle, two people three-legged run nearly 10 counts of recreational activities, such as workshop held in 7 get-together activity in the afternoon, evening fireworks show, 18, organized into Dan village Yang wu town ocean wave village to participate in the "village enterprises fellowship bullfights activity". Gala in group meeting, all the partners of the company brought in different forms, let a person too many things to see the performance, singing, etc, are also among the lottery link, let a person look forward to you heart into it, present a xing fu auspicious this big family feast of joy. These not only bring the laughter, at the same time, also let co-workers more close to each other's hearts. With five award, zhong wanxie, third prize, second prize, first prize, special-class award of extracting continuously lifted the climax of the annual conference. Group the family interaction with staff, exciting sweepstakes, let the song has been rippling on the venue, applause and cheers. Brilliant 2014 years on, full of hope and challenge 2015 quietly come. Group in the past year the work has achieved fruitful results, in the face of 2015, xing fu auspicious technology group of pride, confidence one hundred times, strutting, move forward, towards a higher goal to strive, to a larger market to conquer, with wisdom and sweat to write a more brilliant future. Let's wish and rich auspicious more brilliant tomorrow!