June 17, 2015, the general secretary Xi Jinping arrived at Guiyang City, Guizhou Province Qingzhen Vocational Education Machinery Industry school visits. Here is the partnership between schools and enterprises Group Henfux school. CNC technology training center, neatly arranged on CNC machine tools, Henfux of LOGO is prominent, there is a lot of training equipment provided by Henfux group, which has a processing center, centerless grinding, and fill the gaps CNC Double face lathe. Henfux tools for students to create the favorable conditions for the practice, many students after a short training internship, are able to operate independently, milling, grinding and other machining processes. A student being controlled robot writing "China Dream" on an electronic screen, the general secretary asked where he came from, the students answered:. "Qianxi" the first-year students told the general secretary, own very interested in learning this skill . Chinese dream is the dream of all Chinese people, I still have a dream is to build a more beautiful Guizhou. General Secretary commended the "good ambition." A student of the motto "still capable of Zonta, grind school Atsushi line" printed on aluminum to the general secretary, the general secretary smiled and said, "encourage one another."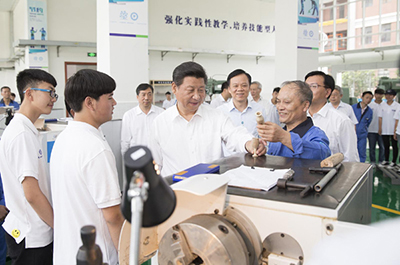 For the study of the general secretary of inspections, Xinhua News Agency, CCTV, People's Daily, China Youth Daily, Guizhou Daily, Guizhou TV, Hong Kong Wen Wei Po, the world's major Chinese news agency and other media have carried a detailed report. Attentive audience invariably noticed an interesting detail - training base of students dressed in a simple and elegant white work clothes emblazoned with Henfux of LOGO: Henfux. The General Secretary of friendly exchanges with the students multiple shots, white Henfux clothing factory frequent appearance. Henfux big eyes flashing in practice, by the rapid spread of television, Internet, print media, Henfux trademark into the eyes of the national audience, has entered all concerned about China's equipment manufacturing industry and vocational education eyes.
Focus on the future, will benefit future generations of school-enterprise cooperation projects Henfux
General Secretary of the equipment manufacturing industry and vocational education earnest concern, encourage us to machine tool industry practitioners. The Jintao visited Guizhou Province Machinery Industry school training base, is an important milestone Henfux Technology Group school - enterprise cooperation and development.
Henfux Technology Group founder Mr. Peng Hongfu deciding to invest in Guizhou Henfux Equipment Industrial Park, has a paragraph to explain the "Henfux" rich connotation of the brand - "Xing in Shenzhen, rich and Guizhou, peaceful China." 12 simple words, a true expression of this to come out from the mountains of Guizhou entrepreneurs in the enterprise development to a certain height to return home, the home construction Sincere Heart.
In 2011, Henfux Group officially started construction in Guizhou equipment industry park, to be put into operation by the end of 2012. In just over a year's time, Guizhou Danzhai this remote western border town witnessed something spectacular industrial changes, the old muddy road, barren mountain has become a highway, railway Unicom modern industrial park.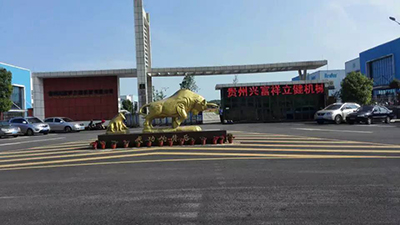 Figure Henfux Guizhou Equipment Industrial Park main entrance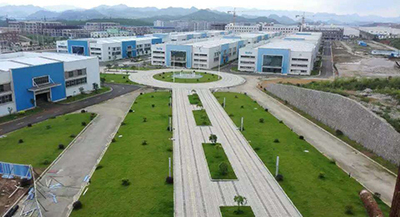 FIG occupies 214 acres of Henfux Guizhou Equipment Industrial Park
Now, Henfux Guizhou Equipment Industrial Park has become Henfux Group's major manufacturing base in the largest, most versatile, most complete industrial chain of industrial parks. Park covers machining, sheet metal, tooling, assembly, testing and so the whole industry chain manufacturing capacity. According to the industrial property within the group is divided into eight division, each business unit to focus on the implementation of independent accounting between R & D and production division in their respective fields. Under this series of advanced management concepts, the company has been to maximize the creativity internal excitation. In Guizhou park, also equipped with a complete staff living quarters, recreation areas, as well as administrative offices, which makes the company's production management can be found in the park to get efficient deployment.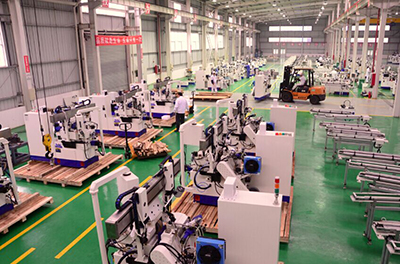 Modern production workshop FIG Henfux park
Equipment manufacturing industry to develop, in addition to building a modern industrial park, but also need to continue training with modern manufacturing technology senior technicians, and this forces continue to inject manufacturing in the past, in order to promote high-end equipment manufacturing industry to grow in Guizhou . Stationed in Guizhou from the first day, Henfux actively participate in the construction and development of vocational education in Guizhou Province in the past.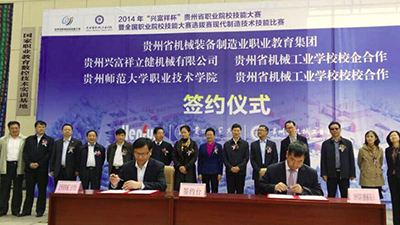 Figure 2014 "Henfux Cup" Guizhou Province Vocational Skills Competition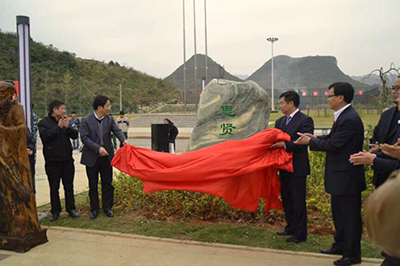 Figure Guizhou Province education department director and Henfux Group Huojian Kang Peng Hongfu
Chairman of the Guizhou Provincial Machinery Industry school Sixian square opening
In recent years, Henfux group of school-enterprise cooperation project has to cover school in Guizhou Province Machinery Industry, Guizhou Normal University, Guizhou Institute of Technology, Danzhai vocational and technical schools, more than 10 universities and vocational schools. Donated to the school by CNC equipment, donated funds, sponsored vocational skills competitions and other initiatives, Henfux group actually boost digitization and modernization of vocational education.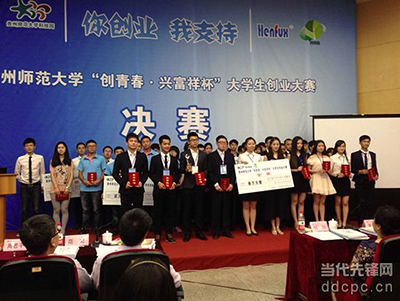 Figure Henfux sponsor Guizhou Normal "a youth · Henfux Cup" Undergraduate Business Plan Competition site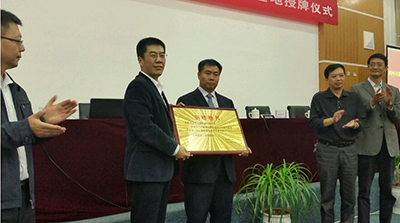 Figure Henfux training equipment donated to the Guizhou Institute of Technology
The practical significance of the "excellent engineer Class" program, the class moved into the workshop, the experts invited to the classroom, so that students in "learning to do, learning by doing", the students in modern production workshop Henfux the actual exercise training, personally operating the most advanced CNC machine tools. Meanwhile, in the workshop classroom, Henfux of senior technical experts and company executives on a regular basis to provide students with numerical control technology, machinery manufacturing, production management, career planning and a full range of lectures and teaching, in improving professional skills of students also assisted training their professional and normative.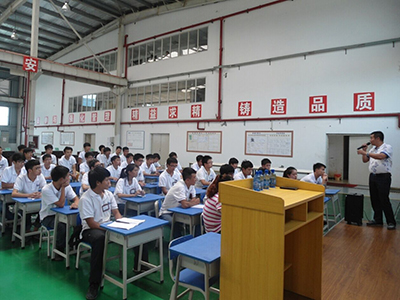 Figure Penghong Fu, chairman of the "excellent engineer classes" teach students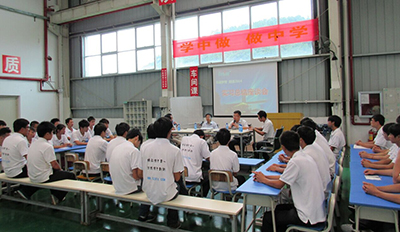 Fan Hong, general manager of corporate communications with FIG Henfux Guizhou students in internship